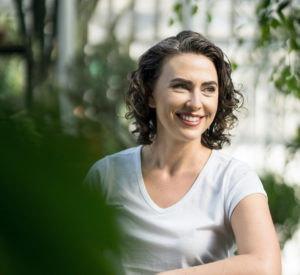 Evelyn Castle is a pioneering health executive and impact investor. After spending a decade working in the health sector in Africa, she is now committed to building Africa's impact investing ecosystem, with the specific goal of supporting female-owned small and medium-sized enterprises.
As the co-founder of 3 social ventures; eHealth Africa, EHA Clinics, and eha Impact Ventures, Evelyn Castle brings vast knowledge and expertise to her role supporting SMEs.
Evelyn, a California native, co-founded eHA in 2010 with Adam Thompson. She notably oversaw fundraising efforts that resulted in the organization drawing in over $250 million during a 10-year period, and also spearheaded initiatives that resulted in the eradication of polio from Nigeria and the containment of Ebola in West Africa.
In July 2018, Evelyn Castle entered the private healthcare industry and co-founded EHA Clinics, a network of primary health care providers, with the goal to become the premier healthcare provider in Nigeria.
At eHA and EHA Clinics, Evelyn saw firsthand the challenges with implementing projects and running companies in Africa — including infrastructure, security, human resources, and corruption challenges. She believes that aid can be an incredible resource to solving public health crises' such as polio and ebola, but supporting the local economy and business ecosystem may be a better solution to achieving sustainable change within the region.
In service of this mission, Evelyn Castle is a venture investor through eha Impact Ventures, which she co-founded in January 2021. In addition to being a thought leader in impact investing, she frequently speaks about gender investing, social impact, and health tech in Africa at conferences and public forums.Â
Connect with Evelyn on LinkedIn and Twitter to stay up to date on industry news and read some of her original content.
Chairman of the Board & Co-Founder
2009 – Present
Founded NGO start-up and grew business from zero to revenue of $262 million over 10 years. Developed board of director governance structures, committees, and recruitment and onboarding of initial 6 board members. Currently serves as chairman of the board and strategic advisor to Executive Director.
Executive Director
2009 – 2021
Provided leadership and change management for public health non-profit organization. Managed a team of over 1200 employees in 4 countries at organization peak.
Successfully transitioned from Executive Director role in 2021.
Impact Investing in Africa
October 2020
University of Cape Town
I am Dare to Lead Trained
July 2019
Certified Dare To Lead Facilitator
Global Executive Training in Integrated Care
September 2019
Center for Healthcare Management
Building a Sustainable Future – Financial Tools & Techniques
2016
Mango (now Humentum)
IH Information Security Awareness Training
2016
National Institutes of Health
2016 Building a Sustainable Future Financial Tools & Techniques
2010 2nd place in Project Implementation – 12th Annual Bay Area International Health Interest
2010 Strauss Foundation Scholarship Recipient
2010 Rick Hooper Foundation Scholarship
2009 eHealth Champion – Society for Telemedicine and eHealth in Nigeria
2009 Honorable Mention – UC Berkeley Big Ideas Competition for Technology in the Interest of Society (CITRIS)